IL VIAGGIO - ENGLISH VERSION
A multi-sensory musical experience to create new mental energies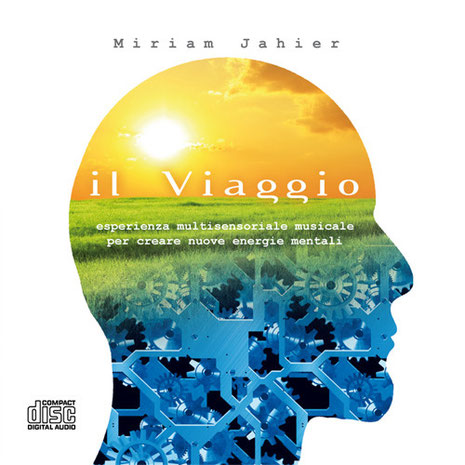 Our "Ego" is generally prone to depression
In order to make it react, it needs to be nourished through pleasant and successful experiences.
Bearing this in mind, I wish you to enjoy your journey!

Dr. Miriam Jahier is a sport psychologist and a psychotherapist. She graduated in Padua and specialized in Turin. She attended several specializing master courses in music therapy, bioenergetics and mental training in Florence and Milan.
For the last 20 years she has been dealing with anxiety and depression disorders affecting young people, families and couples. She has been coaching athletes and managers to improve their mental skills, focusing on either individual and team goals, and on managing their resources by optimizing strategies of problem solving.

The musical project was conceived as an emotional and creative experience, which engage the hearth, the body and the mind.
It acts like a "pill" that recharges, relaxes or activates the brain during the day.
The tracks can be used in two different ways; you can listen to them as a single passage, from the beginning to the end, letting yourself being carried away by this journey experience which awakes, activates, charges, strengthens, empowers our mind and develops our creativity, finally feeling restored at the end.
Or you can use each track independently, as a single experience, according to your goals.
Description of the tracks:
01 Awakening
02 Activation
03 Rhythm
04 Energizing the mind
05 Creative rest
06 Relaxation
In order to get the best from it, firstly you need to listen to the whole CD and then you can select your favourite track(s), because those will be the right ones which can help you to cope with stress and to change your emotional status.
Afterwards, you need to listen to them for at least 21 days in a row, as if they were a homeopathic remedy. In fact, 21 days is the minimum period of time that our brain requires to learn new strategies.
For further information, please contact info@mindtrainer.it . You will receive a reply in 48 hours (2 days) or consult the website www.mindtrainer.it
price 20,00 euro VAT included

TESTIMONIALS
NICOLE
"My favourite tracks are n° 2, that I use in the morning to activate myself, and n° 5 to recharge and travel with my mind."
MARC
"I like mostly listening to the track named "Rhythm" when I go running…I feel "I am back on track!"
CHARLES
"It seems to be on the set of Miami Vice; the track "Energizing your mind" is really gorgeous… a turmoil of sensations that appeals to you. And at the end of the day, when I'm coming back home, I listen to n° 6"
ALESSIA
"To find the energy I need for all the day long I usually listen to track n ° 2 and when I need to relax and take a rest I use the track n° 6. The cd on the whole is useful to concentrate when you are tired and you need to recharge and cope with your everyday tasks"